Wills vs Living Trusts
The Wills vs Living Trusts debate is the most common controversy in estate planning. People often ask, do I need a living trust or is a will sufficient?
Of course if you've spent some time on this site, you already know that even if you have a living trust, you still need at least a "pour-over" will. So, virtually everyone needs a will.
The real issue is do I need a living trust to complement my will?

As this site states again and again – whether you should get a living trust or not depends on your individual circumstances. You have to look at the advantages and disadvantages that are discussed on this site. If you spent some time reading through Free Living Trust Information.com , hopefully you have a pretty good idea whether you would benefit from a living trust or not.

But a couple of big picture points might help put the issue in perspective.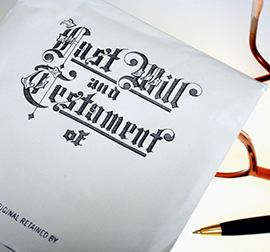 There are generally two ways to have your estate handled after your death:
A will and testamentary trust, or
A will and living trust

Because the second option (will and living trust) will likely cost more to have prepared than a simple will (see Cost of a Living Trust), the threshold question is whether you will benefit enough to justify the extra expense.

As you've surely gleaned from this site, there are numerous ways to accomplish almost every estate planning and/or property management objective. All of the possible options come with unique advantages and disadvantages.

Despite the strong opinions voiced on both sides of the wills vs living trusts [or "wills versus living trusts"; sometimes even "wills verses living trust") debate, the truth is that the differences between the two options are actually – overall - subtle.
Yes, a funded living trust avoids the costs and delays of probate; but even with a living trust (as noted above), there are still costs, and sometimes delays, in distributing assets.




Yes, a living trust can be effective for avoiding a Guardianship proceeding; but, so can a durable power of attorney.




Yes, a living trust offers privacy, but not total privacy.




Yes, a living trust offers greater flexibility in how and when you distribute your assets. But, much of this could also be achieved with a testamentary trust included in a will.
Really, what a living trust gives you is a combination of advantages that in total result in giving you more control, flexibility, and continuity in managing your affairs and planning your estate.

But, it will cost a bit more up front and, if funded, will take time and effort on your part.

As long as you understand the pros and cons, and know why you are doing what you are doing, you are way, way ahead of most people.
In most cases, if you have less than $100,000 worth of assets, it is hard to see how you can justify the expense of a living trust. In fact, it is probably only as you approach $1,000,000 in assets (including life insurance and home) that asset value, alone, likely will justify a living trust. The more assets you own, particularly out-of-state real estate, the more likely you will find a living trust helpful.

Also, the greater your risk of incapacitation, the more likely you are to benefit from a living trust.

Would the privacy of a living trust benefit you and/or your heirs? Is avoiding probate important to you? If so, you want a living trust. Read more about probate at my probate story.

On the other hand, perhaps you think having a probate court oversee the distribution of your assets would be better in your situation. If so, you would not want a living trust.

Do you want to begin – while still alive -- overseeing the creation and funding of the trust you will leave your beneficiaries?
Click & Add:
Blink
Del.icio.us
Digg
Furl
Google
Simpy
Spurl
Technorati
Y! MyWeb
Of course, if you want to do that, or ensure your assets avoid probate – then you have to fund the trust during your life. As discussed at Funding a Living Trust, there are costs in both time and money in properly funding your living trust. But, normally, the time and money you spend now, funding your trust, and otherwise arranging your affairs, saves your family and/or beneficiaries far more time, trouble and money down the road.

The important thing is for you to think through the pros and cons of living trusts. You can read about those at Advantages of a Living Trust and Disadvantages of a Living Trust.

Taking the time and trouble to think through these things now is really an expression of your love for your family. Because they -- not you -- will probably benefit the most from your effort. Your decisions could help leave a lasting legacy long after you are gone.

If you've read through this site, and you still have questions or want more information about wills or living trusts, let us know by using our Contact Us form. We'd love to hear from you and will do our best to help you any way we can.
Have A Comment About This Topic?

We'd love to hear your comments or opinions. Submit them here and other visitors can read them and comment on them. An e-mail address is not required.

---
The purpose of this feature is to stimulate discussion and share experiences regarding topics of interest. However, please note these submissions are not reviewed for legal accuracy. They may not apply to your situation and should not be considered legal advice. For specific legal advice you must consult with your attorney.
---

What Other Visitors Have Said


Click below to see contributions from other visitors to this page...

Is a Will Best For Us?






We have a small estate with revenue mostly from a military pension and social security. We have a house "under water" and do not own any real estate other …
How Do I Protect Assets From a Second Failed Marriage?






This article was very helpful; I have attended two seminars on Living Trusts and find that the presenters are not saying that a will today is useless, …
Will or Living Trust? Not rated yet
Question: I am asking for friend her husband of 46 has terminal cancer. They are wanting to know should they do will, living trust or what. They are …
---
---
From Wills Vs. Living Trusts to Living Trust Summary | Free Living Trust Information Blog | What is a Living Trust? | Advantages of a Living Trust | Disadvantages of a Living Trust | Living Trust Myths | Types of Living Trusts | Medicaid Trust | Trustee | Funding a Living Trust | Probate | Living Trust Taxes | Living Trust Examples | Living Trust News | Living Trust Forum | Living Trust Books & Forms | Living Trust Attorneys | Living Trust Questions |
---
Home Page

About Us | Terms of Use | Contact Us | Site Search | Advertise |
---