Living Trust Cost
I'm often asked: "How much does a living trust cost?"
As with most questions related to living trusts, the honest answer is: "it depends."

A common area of dispute and confusion is over whether a living trust will save you (and your estate) money compared with having a traditional will and going through probate.

Essentially, you have two options about how to have your estate handled after you die.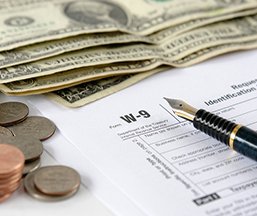 The traditional method is to have a will with a testamentary trust for any assets that can't be immediately distributed (for example, assets for minor children).
The other option is a living trust with a "pour-over will" that pours any assets into the living trust that you have not already placed there before you died.
The second option (living trust/will) almost always costs more (up front) than option #1.
The reason is not the cost of extra paper and ink. The extra cost is in extra attorney fees because of the extra time the attorney will need to spend to properly prepare your living trust. Click here for more about Living Trust Attorney Fees.

The attorney will need to discuss your situation with you and plan the smartest way for you to distribute your estate. He will devise strategies to minimize taxes, probate, expense, and delay in distribution of your estate.

A living trust offers you many more options and choices than a normal will/testamentary trust. A living trust offers the advantages of potentially being funded and used during your life. This raises many additional issues that a testamentary trust, that is only effective upon death, does not raise.

So, a living trust requires more discussion, planning and expertise than a simple will. Naturally, then, it should cost, at least a bit, more money.

How much more?
That varies from attorney to attorney and depends on your unique issues and assets. But, it usually would not be too far off to roughly estimate that you will probably pay $1000 (or so) more for a living trust/pour-over will than for a simple will/testamentary trust.

If you fund the trust during your life, then there are also a few other costs to consider:
Trustee Costs -- Normally you will be the trustee of your living trust while you are living. However, some people choose to have a professional trustee manage their assets. That professional trustee will charge fees for that service. Also, if you become disabled, you would have someone else serve as your successor trustee. Depending who your successor trustee is, he or she might charge fees for their service. Of course this only comes into play if you fund the trust during your life.


Funding Costs -- If you decide to fund your living trust while you are still alive, there may be costs to transfer some assets to the trust. However, many of these fees are fees your estate would have later incurred anyway upon transfer of the assets after your death.


The bottom line is that preparing a living trust will generally cost a bit more than a will. And, if you choose to fund the trust during your life, there could be additional trustee and funding costs.

But, as long as you have enough assets to warrant a living trust (see Wills vs Living Trusts) the extra costs of a living trust are well worth it.

Indeed, if you compare the costs of a fully-funded living trust with the costs of probate, the living trust will overall save your estate (meaning your heirs) lots of time and money in the long run.

If you compare the costs of an unfunded living trust to the costs of a will, the costs should not be that much more and you still get many of the advantages listed at Advantages of a Living Trust.

In the end, it normally comes down to how big or complicated your estate is. The bigger and/or more complicated your estate is, the more the cost savings of avoiding probate will be, and the more you are likely to benefit from a living trust.
What's On Your Mind?

We'd love to hear your comments or opinions. Submit them here and other visitors can read them and comment on them. An e-mail address is not required.


What Other Visitors Have Said


Click below to see contributions from other visitors to this page...

Hidden costs of a living trust






It seems the largest cost of a living trust is the amount awarded in attorney fees after death. I have not seen discussion of this hidden cost which far …
---
From Living Trust Cost to Disadvantages of a Living Trust | Free Living Trust Information Blog | What is a Living Trust? | Advantages of a Living Trust | Living Trust Myths | Types of Living Trusts | Medicaid Trust | Trustee | Funding a Living Trust | Probate | Living Trust Taxes | Living Trust Examples | Living Trust Summary | Living Trust News | Living Trust Forum | Living Trust Books & Forms | Living Trust Attorneys | Living Trust Questions |
---
Home Page

About Us | Terms of Use | Contact Us | Site Search | Advertise |
---