Living Trust Blogs
There are many good living trust blogs. Here's a few of my favorites:
There was a time when all that Estate Planning had to do with was death and taxes. But those days are over now and so many new facets of Estate Planning have developed over the years. To stay on top of the developments and to make the most of your Estate it is essential that you acquaint yourself with the dynamics of the subject. The good news is you are not alone! This blog, an asset of Alvis Frantz and Associates takes you by hand and educates you about the nuances of living trusts and Estate Planning. Hop onto their blog and check out the content.
provisolaw.com
The blog is maintained by Proviso Law Group. The group consists of Business and Estate Planning Attorneys. The blog consists of a lot of insightful posts written in simple English for the common man to understand. It addresses several questions related to living trusts, including questions like "What is a Living Trust?" and "How to Choose Trustee for your Living Trust?" and "The benefits of having a Living Trust!". I like the blog because of the richness of its content and I am sure you will love it too.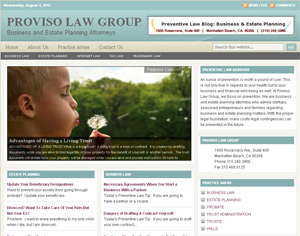 livingtrustnetwork.com
Living Trust Network is a top living trust community site for people interested in learning more about the legal aspects affecting their life. It's a place where legal experts blog on their areas of expertise and answer questions from fellow community members. Living trusts information can be obtained from related blogs on the Living Trust Network. You will have to do a bit of research but then when it comes to the number of options there are quite a few in this community network. You will find a number of legal forms that you can download and use for yourself.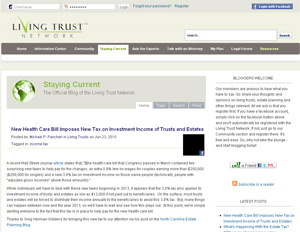 boslegal.com/Blog_LivingTrusts.html
Bogle & Chang, LLC is a dynamic law firm that has been formed by amalgamating a few seasoned high profile attorneys with specialization in various disciplines. The blog is an extension of their physical presence and in a way represents their business online. However if you wish to have some generic reliable information on a particular topic then you may check the resources section on the blog. It has some very informative articles on a wide variety of legal topics that you can benefit from.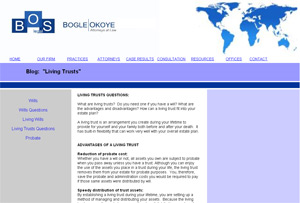 blogs.findlaw.com/law_and_life/2009/09/what-is-a-living-trust.html
This blog is from the Find Law network that is working towards providing a platform to legal service seekers and legal service providers. The blog is a big ware house of legal information. It contains good information on living trust. You will find articles that talk about the basics of a living trust starting from questions like what is it and if it is needed for an individual. On the other extreme it has articles that deal with the finer nuances of living trusts. This is a good place to do your research for living trust information.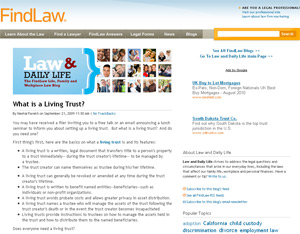 http://blogs.findlaw.com/law_and_life/2009/09/what-is-a-living-trust.html

jrmatsen.com/blog/688/the-importance-of-a-living-trust-in-california
Based in Orange County, California this firm comprising of some of the toughest attorneys in America has carved a niche for itself over a period of last few years. The group is known for its aggression in protecting its clients cause and assets. They focus on Estate Planning, Asset Protection, Probate, Business Transactions, Real Estate and offshore. The blog contains useful information on Estate Planning in general and living trusts in particular that you might find helpful. Check them out.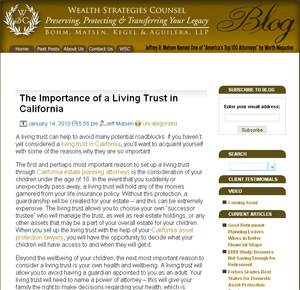 http://www.jrmatsen.com/blog/688/the-importance-of-a-living-trust-in-california

josephfedorowsky.net/tag/living-trust
This is Joseph Fedorowsky's blog on legal matters. It's one of the best legal blogs around. He is an attorney who specializes in intellectual property rights, litigation, financial transactions, trusts and non profits. Joseph has helped numerous not for profit organizations with their various legal matters. He shares his insight to some of the common legal problems faced by small businesses. Though this blog is not dedicated to living trusts, living trusts do form a part of the gamut of legal topics on which Joseph writes.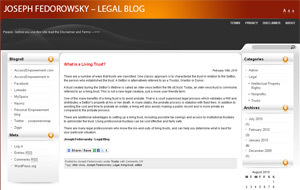 What's On Your Mind?

We'd love to hear your comments or opinions. Submit them here and other visitors can read them and comment on them. An e-mail address is not required.


What Other Visitors Have Said


Click below to see contributions from other visitors to this page...

Typical Situation: What kind of trust would work best (legally and tax wise)?






We would like to setup a trust where if one of us passes, half of our joint property would only go to the surviving spouse, while the other half would …
---
From Living Trust Blogs to Living Trust Information | Free Living Trust Information Blog | What is a Living Trust? | Advantages of a Living Trust | Disadvantages of a Living Trust | Living Trust Myths | Types of Living Trusts | Medicaid Trust | Trustee | Funding a Living Trust | Probate | Living Trust Taxes | Living Trust Examples | Living Trust Summary | Living Trust News | Living Trust Forum | Living Trust Books & Forms | Living Trust Attorneys | Living Trust Questions |
---
Home Page

About Us | Terms of Use | Contact Us | Site Search | Advertise |
---