Don't Do Your Own Living Trust
Don't do your own living trust. Period. End of story.
Lot's of people want a free living trust. This is understandable. And, if you can find a good trust lawyer, willing to do your trust, "pro-bono", that's great. You might check with your local bar association to see if they know of such a program.
But, otherwise, to get a "free" living trust, you'll have to do it yourself. And, that's a bad idea in most cases.

Even if you are an estate planning attorney; even if you specialize in living trusts – you still shouldn't do your own living trust.

Why not?

Because we are all too close to our family and the "stuff" we are going to leave them.

We need the perspective that an impartial, experienced professional provides.

Of course, if you are not an estate planning attorney – there are many more reasons you shouldn't create your own living trust.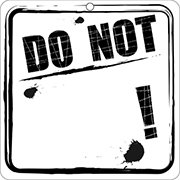 There are laws you are unaware of that may dramatically effect your estate.


You have unique individual circumstances and issues. A one-size-fits-all living trust will likely not fit you.


There are certain formalities that have to be complied with in executing the trust. Some states require notaries, witnesses and certain procedures. You do not want to try to figure this out on your own. One mistake could invalidate your living trust.


You need advice. When a trained, experienced estate planning attorney prepares your living trust, you are buying not just the document itself. You are buying his or her experience and knowledge of the best way to handle your estate. For example, do you know whether and how to fund your living trust? Read Funding a Living Trust to find out why this is so important. One piece of advice could save your and your heirs thousands of dollars and years of trouble.


This is a bit crass, but still true -- if your attorney is wrong and commits malpractice, your estate has someone to sue to get back whatever it lost due to the malpractice.


I bet if you rounded up 10 people who prepared their own living trusts and said you would pay for them to get good legal counsel to advise them about their living trust – I bet 9 of them would come away from the meeting, with their attorney, with changes to their living trust. Some changes would be minor. Some would be major.

The problem is you don't know what you don't know.

That's why I would simply never advise anyone to do their own living trust.

Yes, there are a few reputable on-line legal document preparation companies. Some offer very low cost living trusts. I just don't recommend any of them because you are playing with fire to try to do your own living trust.

Some things in life require professional help. When you need surgery, you need a surgeon. When you need a living trust, you need a lawyer. This is not the time to try to do it on the cheap.
Honestly, creating your own living trust could cause more harm than good. The problems you might create, unfortunately, won't be discovered until much too late, because they likely won't become apparent until after your death. It will then be too late to do anything about it.

You'd probably be better off sticking with a simple will rather than trying to do your own living trust.

If money is the issue, I would question whether you really need a living trust. It is only as your assets approach a one million dollar value that a living trust generally makes sense.

Of course, there are some cases where people with small estates can still benefit from a living trust and want one. If that's you, and money is an issue, remember, every lawyer has their own fee schedule and fees are always negotiable.

If you contact several qualified lawyers and explain your financial limitations, I bet you can find a good estate planning attorney who can do what you need done at a price you can afford. For information on how to pick a good living trust attorney and how much to expect to pay, see Living Trust Attorney Fees.
BOTTOM LINE: DON'T DO YOUR OWN LIVING TRUST!

If you need help finding a living trust attorney, check out Living Trust Attorney.

Update: I recently had a reader write to me about a living trust he was doing on his own. In his case, I actually agreed with him that it made sense to do it on his own. BUT, he is the exceptional case. He is not a lawyer, but certainly knows more about living trusts than most lawyers. He had served as executor for a couple other estates and had worked through a multitude of issues that arose in those estates. He is familiar with living trusts and had purchased and read quality books and manuals about them.

Plus, he is just a "hands on" type of person who would rather do things himself than pay someone else to do it for him. Finally, his main point was that due to personal issues as well as the current uncertainty about the direction of the estate tax exclusion he was sure he'd be re-doing the living trust in a couple years anyway. At that point, he planned to have an attorney do it. So, this was an example of a case where I thought it was o.k. for this particular person to do his own living trust -- recognizing that he runs some risk of making a mistake. But, all in all, a do-it-yourself-living-trust kit made sense for him.

I still say, for the vast majority: Don't do your own living trust!

But, if you, like the reader who contacted me, would benefit from doing your own living trust -- then -- I think the best on-line resource for you would be Legal Zoom. Legal Zoom is a large, well-established, credible company. They stand behind their products. So, if you're going to do it yourself, try out Legal Zoom.

Here's the link to Legal Zoom: Get your Legal Documents Online for up to 85% less than Lawyer Fees


Another good source of "do it yourself" living trusts (and many other legal documents) is Nolo.com:
Wills and Estate Planning Information at NOLO.com
Do-It-Yourself Legal Books, Forms and Software From a Trusted Source

You can read more about Nolo and their books and software at Living Trust Books. Here's a good place to go if looking for Living Trust Forms.
What's On Your Mind?

We'd love to hear your comments or opinions. Submit them here and other visitors can read them and comment on them. An e-mail address is not required.


What Other Visitors Have Said


Click below to see contributions from other visitors to this page...

How transfer Mutual Fund to Trust?






Has anyone been successful in transferring a mutual fund to a trust that paperwork was filed by attorney but never retitled to trust. I have the original …
---
Attorney Website Builder | Create a Financial Legacy with a Living Trust |
---
From Do Your Own Living Trust to Living Trust Forum | Free Living Trust Information Blog | What is a Living Trust? | Advantages of a Living Trust | Disadvantages of a Living Trust | Living Trust Myths | Types of Living Trusts | Medicaid Trust | Trustee | Funding a Living Trust | Probate | Living Trust Taxes | Living Trust Examples | Living Trust Summary | Living Trust News | Living Trust Books & Forms | Living Trust Attorneys | Living Trust Questions |
---
Home Page

About Us | Terms of Use | Contact Us | Site Search | Advertise |
---