Kentucky Living Trust Attorney
Do you need a Kentucky living trust attorney?
Well, that depends on whether you need a Kentucky living trust. If you've spent some time on this site then you already know that living trusts have advantages and disadvantages.And they are certainly not for everyone.
See Living Trust Summary for a summary of the issue [well, sort of -- you'll see what I mean if you go there :) ]
The most common type of living trust is the "Revocable Living Trust" which allows you (the grantor) to put your assets into a trust. Most often people make themselves the trustee so that they continue to control the property in the trust. As far as your control of the property, there really is no difference from owning it in your own name as you do now.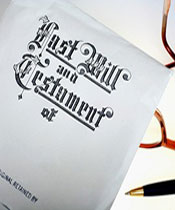 But, if the trust is properly funded, then when you pass away, the successor trustee you name can pass the property and assets on to you beneficiaries without going through probate. This is just one of the advantages of a revocable living trust.
However, if the value of the assets of your estate that must be probated (probatable assets) is small enough (under $15,000) to avoid probate under Kentucky probate law (see KRS 395.455) then estate administration can be avoided and the assets dispensed almost immediately. So, obviously, if your estate is that small, there is little reason to use a living trust to avoid probate.
Even so, of course there are many other types of living trusts as well. A few of them include: listed here:
Disability Trusts
Special Needs Trusts
Asset Protection Trusts
Crummey Trust
Charitable Trusts and
Life Insurance Trusts (ILIT's)

If you are particularly wealthy, you might find a Dynasty Trust to be particularly rewarding for your future generations.

In any event, if you are thinking of getting an estate trust and you live in Lexington or Louisville or anywhere else in Kentucky -- you need a Kentucky living trust attorney. One great way to find one is by using Legal Match. Click on the link below to check them out.
What's On Your Mind?

We'd love to hear your comments or opinions. Submit them here and other visitors can read them and comment on them. An e-mail address is not required.

---
Alabama Living Trust Attorney | Alaska Living Trust Attorney | Arizona Living Trust Attorney | Arkansas Living Trust Attorney | California Living Trust Attorney | Colorado Living Trust Attorney | Connecticut Living Trust Attorney | Delaware Living Trust Attorney | Florida Living Trust Attorney | Georgia Living Trust Attorney | Hawaii Living Trust Attorney | Idaho Living Trust Attorney | Illinois Living Trust Attorney | Indiana Living Trust Attorney | Iowa Living Trust Attorney | Kansas Living Trust Attorney | Louisiana Living Trust Attorney | Maine Living Trust Attorney | Maryland Living Trust Attorney | Massachusetts Living Trust Attorney | Michigan Living Trust Attorney | Minnesota Living Trust Attorney | Mississippi Living Trust Attorney | Missouri Living Trust Attorney | Montana Living Trust Attorney | Nebraska Living Trust Attorney | Nevada Living Trust Attorney | New Hampshire Living Trust Attorney | New Jersey Living Trust Attorney | New Mexico Living Trust Attorney | New York Living Trust Attorney | North Carolina Living Trust Attorney | North Dakota Living Trust Attorney | Ohio Living Trust Attorney | Oklahoma Living Trust Attorney | Oregon Living Trust Attorney | Pennsylvania Living Trust Attorney | Rhode Island Living Trust Attorney | South Carolina Living Trust Attorney | South Dakota Living Trust Attorney | Tennessee Living Trust Attorney | Texas Living Trust Attorney | Utah Living Trust Attorney | Vermont Living Trust Attorney | Virginia Living Trust Attorney | Washington Living Trust Attorney | West Virginia Living Trust Attorney | Wisconsin Living Trust Attorney | Wyoming Living Trust Attorney |
---
From Kentucky Living Trust Attorney to Living Trust Attorneys | Free Living Trust Information Blog | What is a Living Trust? | Advantages of a Living Trust | Disadvantages of a Living Trust | Living Trust Myths | Types of Living Trusts | Medicaid Trust | Trustee | Funding a Living Trust | Probate | Living Trust Taxes | Living Trust Examples | Living Trust Summary | Living Trust News | Living Trust Forum | Living Trust Books & Forms | Living Trust Questions |
---
Home Page

About Us | Terms of Use | Contact Us | Site Search | Advertise |
---