Living Trust Scams
There has been a proliferation lately of living trust scams. I'm talking about "scam artists" who spread misleading information about living trusts for the purpose of scaring people into obtaining living trusts they don't need.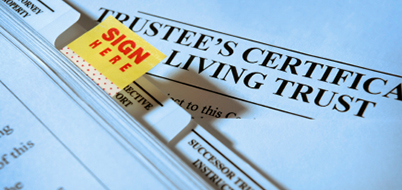 In fact, law enforcement authorities in many states have prosecuted living trust scam artists. They usually are prosecuted under Unfair and Deceptive Practices or Unauthorized Practice of Law statutes.

Some scammers are out-right criminals trying to get personal information from you so they can steal your identity, withdraw money from your bank account, etc.

Others are more like the "snake oil" salesmen of old. These living trust promoters prey on people who know little about the magic product they are selling. Often their goal is to sell insurance, annuities, or other products that they receive a commission for.

Let me just say something loud and clear -- HOLD ON TO YOUR WALLET!!

Unfortunately the world we live in is full of scam artists who make a living off selling people things they don't need or that don't work as advertised.

Some of these con artists have turned their attention to marketing living trusts as some kind of magic product that will "cure whatever ails you".

Of course, the complexity of estate tax and probate laws and estate planning concepts make for a large population of potential victims.

The danger is two-fold.

First, many people are talked into paying for living trusts they don't need.

Second, and probably even worse, many people buy a living trust that doesn't do what they think it will.
This normally happens because they had a living trust prepared, but didn't really understand how it worked – and whoever sold it to them didn't take the time to explain it.

So, what should you do?
Look out for slick salesmen using pressure tactics to sell you a living trust. There is never a need to rush into a quick decision. Take your time and talk to several people about it before you make a decision.


Be particularly suspicious of telemarketing and direct mail living trust solicitations. Also, "free" seminars and door-to-door sales are often used by living trust scammers.


If someone is trying to talk you into signing some pre-printed form, look out! That may be a scam. It is unlikely that a pre-printed form will meet your unique needs. You may well be worse off than with no living trust at all.


Be alert for scammers using names that sound a lot like the names of reputable non-profit organizations like the American Association of Retired Persons (AARP).


Be wary of people who describe themselves with generic terms like "living trust specialist" or "certified estate planner." Those terms could mean anything. Only a licensed attorney can give you legal advice. A living trust is an important legal document. In most states it can only be prepared by a lawyer. You should get advice from a lawyer.


For more information about living trust scams, check out the U.S. Federal Trade Commission Warning about Living Trust Scams.

If you feel you might have been a victim of a living trust scam – report it right away to your local law enforcement authorities.
Have A Comment About This Topic?

We'd love to hear your comments or opinions. Submit them here and other visitors can read them and comment on them. An e-mail address is not required.

---
The purpose of this feature is to stimulate discussion and share experiences regarding topics of interest. However, please note these submissions are not reviewed for legal accuracy. They may not apply to your situation and should not be considered legal advice. For specific legal advice you must consult with your attorney.
---
---
Do Living Trusts Prevent Will Contests | Living Trust and Bankruptcy |
---
From Living Trust Scams to Living Trust Myths | Free Living Trust Information Blog | What is a Living Trust? | Advantages of a Living Trust | Disadvantages of a Living Trust | Types of Living Trusts | Medicaid Trust | Trustee | Funding a Living Trust | Probate | Living Trust Taxes | Living Trust Examples | Living Trust Summary | Living Trust News | Living Trust Forum | Living Trust Books & Forms | Living Trust Attorneys | Living Trust Questions |
---
Home Page

About Us | Terms of Use | Contact Us | Site Search | Advertise |
---